Edwarda Biss, CDP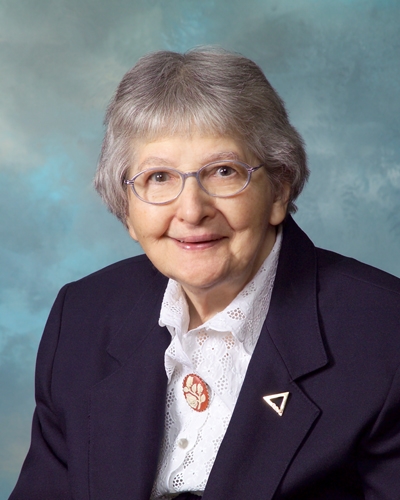 We commend to your charity the soul of our beloved
Sister Edwarda Biss 
who departed this life on June 14, 2011 
in the eightieth year of her religious life 
Age: 97 years, 6 months, 11 days 
Funeral: Thursday, June 16, 2011 at 4 p.m. 
Last week we gathered around Sister Edwarda, anointed her, prayed and sang, and she asked if she was dying. One of the Sisters asked her if she was ready to go to Jesus and her response was "I don't think I'm ready yet." Today, in the very early hours of the morning, Sister Edwarda came to the point of readiness, embraced the voice of her Beloved and peacefully and quietly went home to her God. Barbara was the daughter of Peter and Barbara Biss who came from Czechoslovakia and made their home in Penn, Pa. She grew up with three sisters, Anne, Mary and Agnes and two brothers, Edward and Joseph. She was only ten years old when her father died. In 1931 she left her home and her five siblings to follow her heart's call and joined others in giving her life to God with the Community of the Sisters of Divine Providence. As her commitment to God matured and deepened she moved through the stages of formation and professed her final vows on August 8, 1937. 
Through the years Sister Edwarda ministered in many places. She attended St. John's Hospital School of Nursing where she graduated in 1938. From that time on she spent over 60 years in the healing profession, getting her B.S. in Public Health Nursing from the Catholic University of America in 1950 and her M.S. in Nursing Education from St. Louis University in 1961. Sister Edwarda spent 28 years teaching nursing to others at various places including St. John's Hospital, St. Francis, Mercy, Braddock, and Divine Providence hospitals as well as taught nursing at Pennsylvania State University, Latrobe University, Indiana University and in Ponce, Puerto Rico. She was known to be dependable, efficient, and generous with her time and talents. After retiring from this ministry she received certification in hospital chaplaincy and spent another 15 years in service to the sick and suffering. Letters in her file attest to the appreciation of patients "who felt comfortable in talking to her and the volunteer staff marveled at her energy." She returned to the Provincial House at 80 years of age, where even in retirement she began writing to prison inmates. She also grew her hair very long so it could be cut and given to an organization that helped cancer patients with wigs. In all things she continued to give witness to the working of Providence in her life. 
Those who knew her well say she was a woman of deep prayer; she had a love of liturgy and a great devotion to St. Joseph. She demanded a lot of herself and others, and always tried to be supportive of authority. And she loved her community deeply. 
She was an avid writer who had lots of things written on small pieces of paper. These speak of her great desires. "Grace is simply the embrace by which God takes us to Himself in the Holy Spirit. It is my divine gift from Jesus. For me grace is experienced as the power and presence of God, a loving energy from God to me. May I always be open to it on my life's journey." Sister Edwarda, grace leads you now to your eternal home. 
Birthday: December 3
If you would like to make a gift to the Sisters of Divine Providence in memory of Sister Edwarda, visit our donation page.