Joan Albaugh, CDP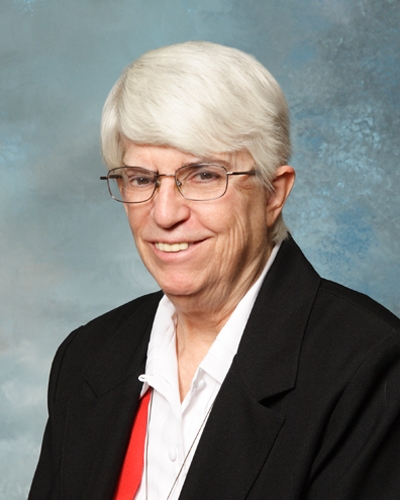 We commend to your charity the soul of our beloved
Sister Joan Albaugh
who departed this life on December 24, 2011 
in the fifty-fourth year of her religious life 
Age: 76 years, 2 months, 29 days 
Resurrection Service: Tuesday, December 27, 2011 at 3:30 p.m. 
Joan Louise, daughter of the late Anna Campo and Herman Albaugh, with her brother Dean and sisters, Jackie and Rose, attended school at Sacred Heart in New Philadelphia, Ohio, and St. Joseph's High School in Dover, Ohio, where she first met the Sisters of Divine Providence. At the age of five, her mother was killed in an auto accident and Joan and her siblings went to live with her Aunt Emma and Uncle Fino Gottardi who became the guardians of the four children. Though Joan had been dealt a difficult hand in life at an early age, she found great love and acceptance with her Aunt and Uncle. She also found it with the Sisters of Divine Providence who were her teachers. 
In July, 1953 Joan entered the community here in Allison Park as a postulant but was sent home in December, 1953, asking her to defer the thought of a religious vocation until a later date. Two years later, while a student at Kent State University, she again sought admission to the community, but this time in the province in St. Louis, Mo. She looked at other religious communities but was always drawn back to the Sisters of Divine Providence. Perhaps she wanted a fresh start. She was accepted there and given the religious name of Sister Mary Donald. 
For 25 years Sister Joan taught in elementary schools in the St. Louis area and also in Madison and Venice, Illinois. She spent time teaching music at Mercy High School in St. Louis and while there began thinking about a call to the nursing profession. After receiving her RN and BSN education she spent a year working in a hospital in West Virginia and in 1985 came home to St. Louis when she was elected to the Provincial Council. During the next 15 years she worked as a Visiting Health Promotion Nurse and also was a certified massage therapist. In 2001 Sister Joan was elected to the first Leadership Team of the newly formed Marie de la Roche province and followed that ministry as Co-Director here at Providence Heights and then Director of Liturgy. To many of her friends it seemed as though she had come full circle. Those of us who knew her well know she was a woman who loved this community with her whole heart. She loved history, liturgy, music, cross stitching, was passionate about social justice issues, and wrote many a reflection that often spoke of her own great desire to grow in holiness. She once wrote: "If I weren't a Sister of Divine Providence, I would live in a world where the sky was always overcast and the sun would never shine again…and it is for this reason that I beg for the grace of perseverance and the privilege of serving God and this community for the rest of my life to the very best of my ability." In these last days, through her sickness, she kept on keeping on. 
Now she enters eternal life in this Christmas season with the heavenly bell choir ringing, "O Come All Ye Faithful." Well done, good and faithful servant. 
Birthday: September 25 
Written by Sister Barbara McMullen
The Pittsburgh Post Gazette printed an obituary of Sister Joan. 
If you would like to make a gift to the Sisters of Divine Providence in memory of Sister Joan, visit our donation page.