Roseanne Holden, CDP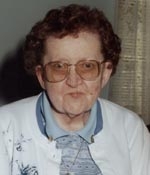 We commend to your charity the soul of our beloved
Sister Roseanne Holden 
who departed this life on Thursday, February 3, 2011
in the fifty-third year of her religious life
Age: 81 years, 2 months, 25 days
Funeral: Tuesday, February 8, 2011 at 4 p.m. 
Taste and see the goodness of the Lord.  Blest is she who hopes in God. 
Teresa Anne, the only child born to Herbert and Rose (Hyder) Holden, grew in her faith by her parents' example as active parishioners and in her relationship with her cousin, Monsignor Raymond Hyder. Growing up in faith first in Quincy, Mass., and later in Dorchester, Mass., Teresa attended Catholic School through the eighth grade. 
Born with physical challenges, Teresa experienced early surgeries and, from a young age, took speech lessons to overcome the limitations which she may otherwise have had. Teresa's mother died sometime before she entered the community at age 28. Her own young struggles and the great sadness of her mother's death marked her later life.  
Soon after the foundation of Our Lady Province, Sister Roseanne, as she was named, seeking and hoping in God, entered the community in Kingston, Mass. Trained in food service, Sister Roseanne ministered for many years, first at Cardinal O'Connell Seminary in Boston and then at Sacred Heart High in Kingston.  
In later years, Sister Roseanne ministered at Sacred Heart Elementary in new ways. Serving the Sisters and school community in housekeeping, Sister Roseanne also purchased the supplies. Asked to be a driver for Sisters with whom she lived, Sister Roseanne was happy to take them to the doctor and she was available for their other driving needs as well. Sister Roseanne especially loved interacting with the young students and was always sharing stories about what they said as she gave out milk, helped with lunches, or sold school supplies before classes began.  
Sister Roseanne, a quiet woman, who never sought notice for herself, was faithful in prayer, consistent in fulfilling her responsibilities, and generous in meeting others' needs. She was also very interested in world events, reading the daily news, enjoying current magazines, and she regularly prayed for and spoke about unfolding national and world events. In recent years, diminished in her ability to participate in life, Sister Roseanne continued to observe and be interested in the events around her.  
After a very brief illness, she was called home to be with the One to whom she had dedicated her life so many years before. We rejoice with Sister Roseanne that her hope in God is fulfilled and she is now tasting and seeing the goodness of the God of Providence.
Birthday:  November 8
Written by Sister Mary Francis Fletcher
If you would like to make a gift to the Sisters of Divine Providence in memory of Sister Roseanne, visit our donation page.