Donna Marie Gribschaw, CDP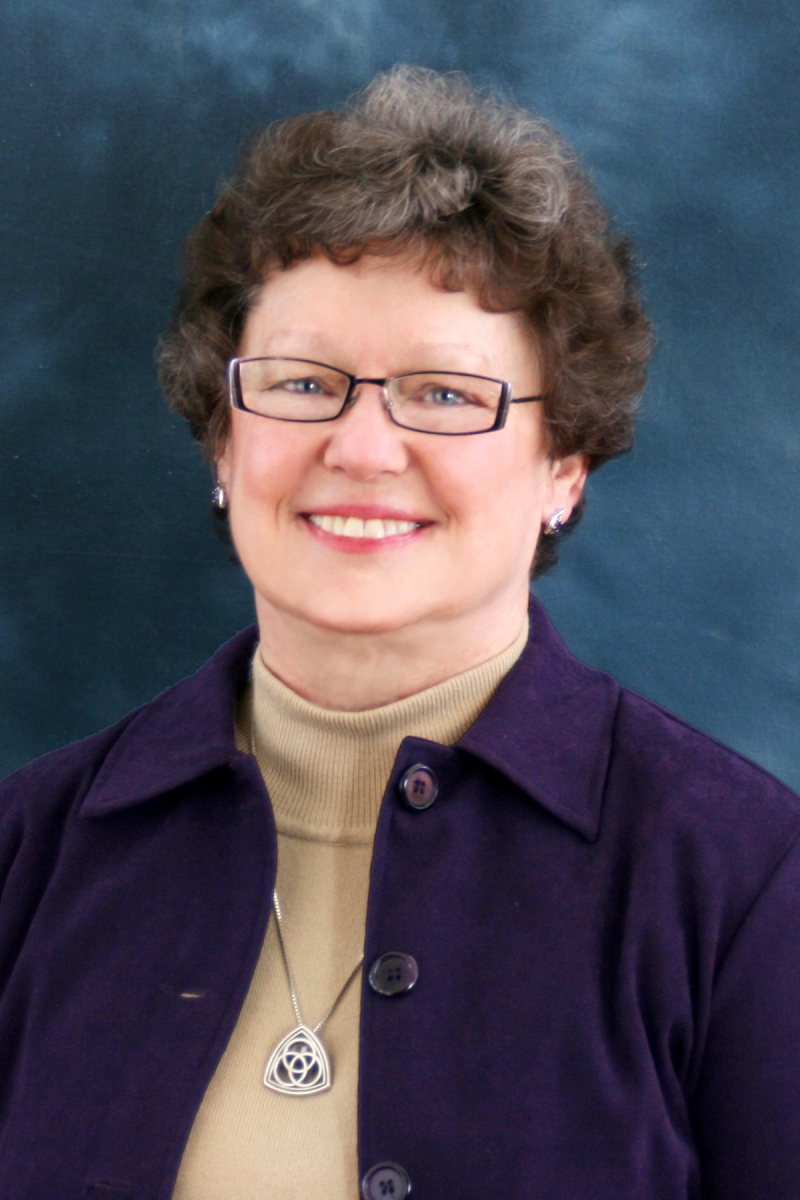 Sister Donna Marie Gribschaw entered religious life from St. Cecilia (now Queen of the Holy Rosary) parish in Glassport, PA. She credits her parents, the Sisters of Divine Providence and an aunt who was in the Community as who most influenced, nurtured and supported her desire to pursue her vocation and enter religious life. She says, "I was very close to my aunt and, as a child, would have many conversations with her about being a Sister. ... I was taught by the Sisters of Divine Providence in grade school and have fond memories of their dedication and faithfulness in the classroom, as well as their kindness and welcoming presence. I couldn't wait to visit the Sisters when they returned to the convent in mid-August. I enjoyed many summertime visits with them, sitting on the porch with something to eat and drink. I am grateful for their presence in my life." 
Sister Donna earned her Bachelor of Science in Mathematics from La Roche College in Allison Park, PA and her Master of Arts in Teaching Mathematics from John Carroll University in Cleveland. She began her ministry teaching mathematics at Providence Height Alpha School in Allison Park, PA (1972–1973) and continued at Divine Providence Academy (DPA) in Cheswick, PA (1973-76, 1979-84) and Bishop Guilfoyle in Altoona, PA (1976-1979). After earning her master's degree (1984–1986), she returned to teaching, this time at North Catholic High School (1986–1988). Her desire was to be able to use her skills at the university/college level which she did at the University of Pittsburgh (1988–1993) as a math specialist for the Learning Skills Center.  There she directed the tutorial program and prepared students to work as undergraduate teaching assistants for the math department. Sister Donna ministered in Puerto Rico one summer, which touched her heart and led her to spend a year in Arecibo (1994–1995) where she served as a math teacher at Colegio San Felipe and the administrative assistant at La Oficina para la Promoción y el Desarrollo Humano (OPDH). She returned home to Pittsburgh to minister as the first on-site executive director of Providence Connections on Pittsburgh's North Side (1995–1999). Sister Donna returned to the academic arena and worked at La Roche College (1999–2003) as the assistant director of the Academic Enrichment Center where she certified the tutorial program and initiated the supplemental instruction program. Sister Donna's heart was touched to return to Puerto Rico (2004–2007) where she joined Sister Roberta Grzelak at OPDH, serving as the director of development and director of low income tax clinic. She then ventured to the north Atlantic shore where she served as campus minister at Sacred Heart High School in Kingston, MA (2007-2011). Since 2012, Sister Donna has served as a Provincial Councillor on the Provincial Leadership Team of the Marie de la Roche Province in Pittsburgh.
As Sister Donna reflects on her journey as a woman of Providence, a phrase from the Mission Statement comes to mind: "trust in and openness to the Providence of God." She says, "I can say that I have been faithful in my journey with our Provident God." 
In 2018, Sister Donna said "yes" to going to Puerto Rico to assist Sisters there in helping individuals and families most affected by Hurricane Maria. She says, "Together, with compassionate hearts and hopeful spirits, we opened ourselves to the joys and sufferings of the people in Puerto Rico. This has certainly been an experience of the heart for me. It has also been an invitation to step back and 'relax into the moment' and to see Providence being made visible in my Sisters. I have taken time to stand in solidarity with the people of Puerto Rico and they have shown me such resiliency as they wait and slowly recover from this crisis. Their hope and strong faith have been an example for me. My heart and spirit have been touched! I have seen and experienced the presence of our Provident God. ... This is a most recent snapshot of my living the charism of my Community. I can truly say that these 50 years have all been rewarding for me. As I reflect on our Vision, I have been blessed by God's indiscriminate graciousness. I truly live in the abundance of God's loving Providence and I am continually strengthened by the bonds of an inclusive and international community. I pray that I can continue being a woman of Providence and reflect the Mission and Vision of my Community to all I meet and serve."
Self-described as generous, faithful, courageous and compassionate, Sister Donna loves spending time outdoors, venturing out to new places, knitting, crocheting, cross-stitch, reading a good book, listening to classical music and attending cultural performances.
CLICK HERE to make a gift in honor of Sister Donna Marie's 50th Jubilee.