Leona Ulewicz, CDP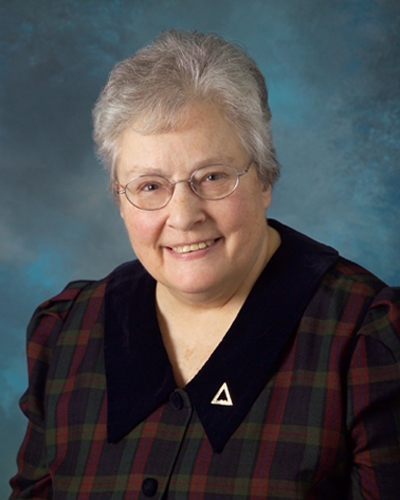 Sister Leona Ulewicz, formerly Sister Sara, entered religious life from St. Mary parish in Sharpsburg, PA. She credits the Sisters of Divine Providence and Holy Ghost (Spiritans) who ministered at St. Mary with influencing her decision to become a Sister, as she admired their happiness and dedication to the Church.
Sister Leona has served the Community in various ministries. Beginning as an educator, she taught in the Diocese of Pittsburgh at SS Peter & Paul in East Liberty (1959-62), St. Basil in Carrick (1962-63), St. Sylvester in Brentwood (1963-67), St. Mary in McKees Rocks (1967-69), St. Bonaventure in Glenshaw (1979-80, 1982-83, 1991-93) and St. Margaret in Greentree (1980-81). She also taught at Queen of Peace in Michigan (1969-71) and Blessed Sacrament in Warren, OH (1983-84); was a teacher/principal in Puerto Rico in Arecibo (1971-75), Orocovis (1975-79) and Utuado (1981-82); and substituted as principal at the mission school on the Red Lake Indian Reservation in Minnesota (2000). She served as client coordinator for La Posada Providencia in San Benito, TX (1995-98); in Hispanic ministry in Lorain, OH, at SS Peter & Paul Church in Warren, MN (1998-2000) and Sacred Heart parish in E. Grand Forks, MN (1998-2009); and in diocesan ministry in the Diocese of Crookston in Minnesota as the director in the pastoral office of Christian Service (1998-2009). She also served as the assistant director at Providence Villa (2009-15) and in service to the Community at Providence Heights in Pittsburgh (2015-19).
She said, "I express my gratitude as a member of an international community of Sisters that I am privileged to work with and for so many different people, cultures and languages in so many places to make the face of God's Providence visible."
Self-described as a self-starter, organized and persevering, Sister Leona enjoys listening to classical music, reading and playing Mahjong.
CLICK HERE to make a gift in honor of Sister Leona's 65th Jubilee.