Caminando con los Migrantes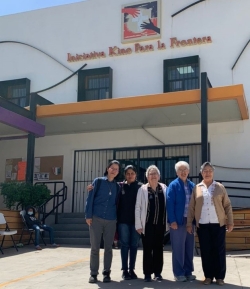 By Sister Josephine Macias, CDP
From March 7 to April 8, 2023, I returned to the land that my own parents migrated from almost 100 years ago. They suffered pain and want but would not recognize the extreme violence and deep deprivation that current migrants endure. I chose to participate in Caminando con los Migrantes (Walking with Migrants), a program sponsored by the Hilton Foundation to involve Religious Communities with the work of Kino Border Initiative (KBI), to honor their quest for a better life and to be of service to those today who struggle to save their very lives and those of their children.
Programs throughout this month brought me face to face with courage and endurance. Migrants shared stories of struggles that included painful memories of relatives who disappeared; rape; murder; and loss of work, land, and dignity. They traveled from Central and South America, Haiti, and Mexico, relying on word of mouth that there was refuge at KBI in Nogales, Sonora, Mexico. Here they found security and a wholistic approach that includes food, healthcare, shelter, legal advice, and, most importantly, a welcoming smile. I saw faces that were transformed from stoicism or fear to glimmers of hope. I saw the resilience of children bring new courage to their families.
Along with working in the kitchen to chop vegetables for approximately 180 people a day, serving meals, and organizing donations of clothing, I participated in a daylong visit to a ranch along the Arizona/Mexico border where trails have been forged by Border Crossers, a term that is used to differentiate them from Migrants. Border Crossers are men who are volunteers, or conscripted by threat, to carry drugs to the U.S. Cameras on the ranch show men in camouflage making a perilous journey for the dangerous cartels that control the area. On the other hand, migrants are usually family groups who walk together for safety, led by a coyote.
I shared a house with four other religious women, who are all more fluent in Spanish than I am! Our international community included Sisters from India, Taiwan, Mexico, and U.S. (Indiana). We enjoyed many adventures together and, like me, will always treasure this life changing experience.
| | | | | | | |
| --- | --- | --- | --- | --- | --- | --- |
| My housemates left to right: Sr. Sweety (from India), me, Sr. Yamei (Taiwan), Sr. Lucille (USA), Sr. Maria Concepcion (Mexico). Sisters Sweety, Yamei, and Ma. Concepcion currently live in Mexico and are all members of the Missionaries of St. Francis. Sr. Lucille is a Visitation Sister. Foreground: Cinthia Hernandez, Kino staff member, director of volunteers. | An invitation to join the Misioneras de la Eucharistia for dinner at their convent was a cause for celebration! The Sister, far right (middle) is Hna. Ma. Engracia Robles Robles, who was the original driving force in establishing Kino. The two Sisters standing in the back are Hna. Tachita, and Hna. Luz Elena. | This painting is a version of the Last Supper and is located on the far wall of the comedor (dining room) at Kino. The room is also used for the celebration of Mass, a play area for the children, and a gathering space. | Meals are served from this window to the residents and in an outdoor area that is open to walk-ins who bring their own containers. Numbers can vary from 100 to 300 daily. | The "heart" of Kino! Volunteers help peel, slice, and dice for the cooks to provide three meals each day. | This view shows the rugged desert land that migrants attempt to cross. Father Pete, SJ, led us on a hike through this unforgiving terrain and recounted stories of his twelve years assisting those who are desperate enough to attempt the journey. | During our despedida, or farewell party, we share a laugh remembering highlights of the past month at Kino. Left to right: Angel, Kino staff member, me, Sr. Lucille, Cinthia, Sr. Sweety, and Sr. Ma. Concepcion. Our treats included ChocoFlan, a special Bailey's cream cake, and spicy corn chips. |