Angela Provost, CDP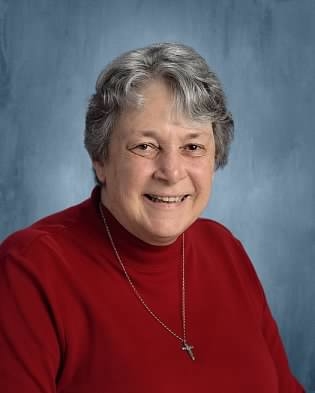 Sister Angela Provost entered in 1966 from St. Patrick parish, Brockton, Massachusetts. She stated that what most influenced her decision to enter religious life was the concept of serving God, specifically, by serving the young. She went to St. Patrick High School taught by a different community of Sisters. During her sophomore year, she went with some of her classmates to a retreat weekend conducted by our Sisters. She was so moved by the experience that she returned the following year for another retreat. It was during that weekend that she noticed something different with the novices and later discovered that a professed Sister's mother had passed. It made a strong impression on her that if a group could have such a bond with each other, this is where she wanted to be! This is where she felt God's Providence.
She earned a bachelor of science from Bridgewater State University and a master of science from Lesley University. She taught at Sacred Heart Elementary, Kingston, MA (1969-71), St. Bridget School, Abington, MA (1972-73), St. Francis Xavier School, So. Weymouth, MA (1973-74). From 1974-1983, she served at Sacred Heart Pre-Primary School, Kingston, MA as the co-director from 1974-1983; then as director from 1983-2007. Sister Angela also served as an Early Intervention Specialist at So. Bay Mental Health Center (2008-2009) and at Kennedy-Donovan Center (2008-2012). Sister Angela currently ministers as the Director of Sacred Heart Early Childhood Center (2012-present).
In 2011, Sister Angela was honored with the Luella Legacy Award, the Kennedy-Donovan Center's highest award and was nominated by her peers. The Center grew out of the close relationship between Luella Hennessey Donovan and the family of Joseph Patrick and Rose Kennedy. Luella tended to the needs of the Kennedy children, including Rosemary, the eldest daughter, who had developmental disabilities. This work inspired her to further her education and eventually open one of the first community-based educational and therapeutic programs for young children, with the help of a grant from the Joseph P. Kennedy, Jr. Foundation. In gratitude, Luella named her program the Kennedy Center for Handicapped Children. The agency was renamed Kennedy-Donovan Center in 1987 in recognition of Mrs. Donovan's contributions. Coming from a long history of working with children and as Director of Sacred Heart Pre-Primary, Sister Angela was a perfect fit for the award. Her vision and creativity in her role as Early Intervention Specialist as well as her compassion put into practice Luella's ideals.
She is self-described as dedicated, loyal and faithful. Sister Angela loves photography, going to the ocean and crafts (crocheting/embroidery). As a Sister of Divine Providence, she sees herself living out her vows and the community's charism of their Founders; to serve others each and every day. She believes that to serve the poor is found in various areas; not only with those with less materially. Just as her founders served the needs of others wherever and however they met them, Sister Angela prays that she too will do as well.