DeLellis Oravitz, CDP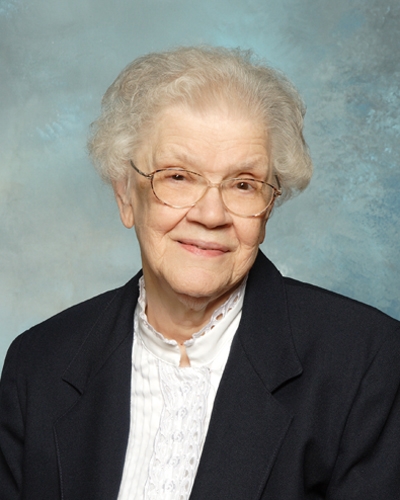 We commend to your charity the soul of our beloved 
Sister DeLellis Oravitz        
who departed this life on Saturday, June 19, 2010
in the seventy-sixth year of her religious life
Age: 91 years, 11 months, 11 days
Funeral: Tuesday, June 22, 2010 at 4 p.m.
… Seek first the Kingdom of God and God's righteousness and all … will be given you besides.  [Matt. 6:24-34]
These words, taken from the gospel reading of the liturgy on the day of Sister DeLellis' death, come from what we, the Sisters, have often called our Providence Gospel. 
Grace Elizabeth, one of nine children born to Freda and Michael Oravitz, attended St. Mary School in Beaver Falls, Pa., and was taught by the Sisters of Divine Providence. Desiring to become a Sister, Grace attended Providence High School as an aspirant. In the summer when she became sixteen, Grace was accepted for entrance into the community.  
With the other young women who joined the community in the fall of 1934, Sister DeLellis learned how to live more deeply in God's presence and service. The spirit of the community resonated deep within her. Living more fully aware of the promise and invitation of our Provident God, she grew in quiet faith and simple trust of God's loving Providence, responding often to, "… Seek first the Kingdom of God … do not worry about your life, what you will eat or drink, or about your body, what you will wear."
For twenty-eight years, Sister DeLellis happily served in the Pittsburgh Catholic school system and, for another eleven years, she served the children and families in Arecibo and Utuado, Puerto Rico. As a teacher, Sister DeLellis asked a lot of her students, working to help them master the skills they would need in their adult lives. She trusted in the gifts God had given her as she moved into new ministries and adapted to new situations of community and service. In between her years of teaching, Sister DeLellis also served for twenty-one years as a financial officer at Divine Providence Hospital, graciously accepting and becoming proficient in her new responsibilities. At the end of her ministerial life, Sister DeLellis again took on a new ministry, serving the community for three years as Assistant Archivist. 
In community, Sister DeLellis was easygoing and a lot of fun. The Sisters delighted in her lighthearted ways, her undemanding presence, and her readiness to enjoy the moments with them. In her relationships, Sister DeLellis lived with a joy and freedom that brought pleasure to those with whom she lived and worked. She lived in trust, with openness and compassion for all she met, as she took to heart, "Can anyone of you by worrying add a single moment to your life span? … Do not worry about tomorrow…"
In her later years, as throughout her life, Sister DeLellis enjoyed conversations with the Sisters. She was always available and attentive to what was happening, noticing what was needed, listening to others, and sharing her experiences with them. She especially loved to walk outside and was always grateful when another Sister would accompany her to revel in nature's beauty, the birdsongs, and the pleasure of a warm sun or a cool wind as she walked. Now as she enjoys her new life enveloped in God's loving presence, she has reached her goal: seeking first the Kingdom of God and God's righteousness and ... we believe, all else has been given her… besides. 
Birthday: July 8
Written by Sister Mary Francis Fletcher
If you would like to make a gift to the Sisters of Divine Providence in memory of Sister DeLellis, visit our donation page.