Edna Herbst, CDP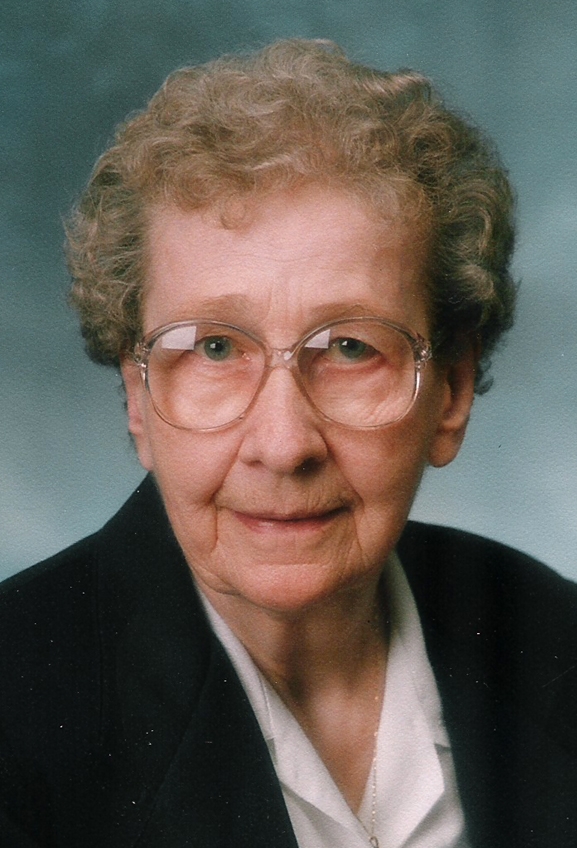 We commend to your charity the soul of our beloved
Sister Edna Herbst
who departed this life on Saturday, July 10, 2010
in the eighty-first year of her religious life
Age: 96 years, 8 months, 29 days
Funeral: Tuesday, July 13, 2010 at 4 p.m. 
…Eye has not seen, ear has not heard, nor has it dawned on humankind what has been prepared for those who love God. [1 Cor. 2:9] 
Edna Cecilia, daughter of Olivia and Leonard Herbst, with her sister and five brothers, attended St. Joseph's School in Braddock where she first met the Sisters of Divine Providence. At age 15, after asking for a sign whether God wanted her to become a sister, Edna received that sign, a pink rose, and "from that time on, I was going to be a nun."
Named Sister Regis Marie as a novice, some forty years later, as many changes came into religious life, Sister Edna decided to return to her baptismal name. From her earliest days in community, she sought to grow closer to God by listening, learning, and living within the daily reality of religious life. 
Prepared as a teacher, Sister Edna didn't expect to enjoy teaching. "All I knew was that I wanted to paint." She was surprised that she loved teaching and she gave herself fully to all she taught, though her greatest love was teaching art classes. One student wrote of her, "…she, a no-nonsense type, validated my writing skills...She taught me so much about the basics, and she encouraged me to improve and gave me the tools to do it." 
Sister Edna taught in many schools in the Pittsburgh diocese, first in elementary and later in high school, as well as teaching for four years in Kingston, Mass. Having completed a Master of Fine Arts degree in 1972, Sister Edna became coordinator of the Fine Arts Department at La Roche College where she taught for another sixteen years, bringing to an end a teaching career spanning six decades. 
During a lifetime of painting, Sister Edna had more than 30 exhibits of her abstract and realistic paintings and sold many of her works. A 1970s news article identified her as "one of the outstanding Pittsburgh area artists." Sister Edna once wrote, "Art always did appeal to me… I think differently when I view things and I love to create something that has never been seen (Abstract) and as I am working on a piece, I am lost in the marvel of the material, the working of it, the feel of it, the results of using it…" 
In 2005 Sister Edna sent Pope John Paul II what she believed would be her last painting. Thanking the Holy Father for dedicating a year to the Blessed Sacrament, Sister Edna wrote, "My whole love is the Blessed Sacrament…Receiving the Holy Eucharist is what makes me see Christ in others."   
On her 90th birthday, Sister Edna could say, "I don't think I will be wanting to paint when I get to heaven, but that was my joy here on earth. While I was here, doing art was a spiritual experience that was interactive with my religious life." Sister Edna's God-given gift led her to know God in ever-deeper ways. Her faith and spirituality were interwoven with her sharing in God's creativity. 
Now as Sister Edna shares in eternal life, may she experience the fullness of love and joy, an experience beyond what she could ever have imagined, even through her artist's perspective. Eye has not seen, ear has not heard, nor has it dawned on humankind what has been prepared for those who love God.
Birthday: October 11
Written by Sister Mary Francis Fletcher
If you would like to make a gift to the Sisters of Divine Providence in memory of Sister Edna, visit our donation page.