Floretta Hoerster, CDP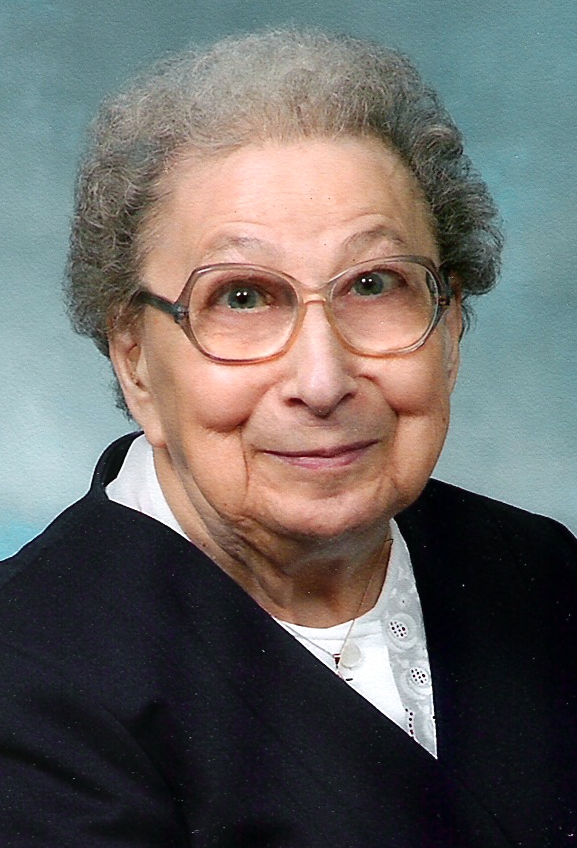 We commend to your charity the soul of our beloved
Sister Floretta Hoerster
who departed this life on Friday, June 25, 2010
in the eighty-fifth year of her religious life
Age: 100 years, 4 months, 18 days
Funeral: Monday, June 28, 2010 at 4 p.m.
…go, therefore, and make disciples of all nations…. Teach them to carry out everything I have commanded you. [Matt. 28:19-29]
Magdalene Rose, second of four children of Henry and Rose Hoerster, attended St. Martin's School in West End, Pa. She learned from her mother's "good example" and was greatly influenced by Sister Agnes Meinert, her elementary school principal, as well as by the "patience, piety and good example" of the Sisters who taught her. Desiring to become a Sister of Divine Providence, Magdalene became an aspirant, attending the Sister's high school, and entering the community soon after her fifteenth birthday. 
With the other young women who entered at the same time, Magdalene, named Sister Floretta, continued her high school classes, while also being prepared for life as a Sister of Divine Providence.  She lived the religious life as she learned about it, growing in knowledge and experience in prayer and ministry, generosity and service, community life and the vows. Later in life, Sister Floretta shared that the most satisfying and rewarding part of her religious life was prayer and "being of service to others." 
Sister Floretta studied and spent her life, sharing her knowledge and her gifts in education, as a teacher and principal, in elementary and high schools. For 66 years, she ministered in education, serving in the Pittsburgh Diocese for 41 years, spending her last 15 of those years in ministry at Providence Heights Alpha School, and serving another 25 years as a missionary in Puerto Rico. Sister Floretta took to heart the last words of Jesus to his disciples, "Teach them to carry out everything I have commanded you." 
Sister Floretta loved life; she loved learning and teaching; she loved the children whose lives she touched; she especially loved being a missionary. She travelled to Puerto Rico in 1936, with the second group of Sisters, just four years after the community's island beginnings. She was excited to volunteer and be accepted, and later remembered, "I was young, it was fun…. I loved the challenge of a new beginning." 
In describing herself, Sister Floretta noted she was agreeable, as well as stubborn and a perfectionist. Ten years ago, Sister Floretta wrote, "During my entire religious life, I have always tried to be pleasant and charitable in my dealing with others." These qualities gave her an inner strength to face and accept life's challenges: teaching in thirteen different schools and parishes, getting acquainted with students, families, and parishioners, studying and teaching from many types of books and materials, learning a new language, adapting to a different culture, living in community with different sisters in many convents and experiencing the enormous changes in society, in religious life, and in the Church after Vatican II.
Daily, even in her final years of retirement, Sister Floretta sought God and served the God of Providence to whom she had dedicated her life. It gave her great joy to have her niece, Kathleen, join her in the community to share her life as a Sister of Divine Providence. At one time of reflection on her life, Sister Floretta wrote, "Anyone considering life as a religious should be advised to always listen to the voice of God's Spirit within. It is the only way to true fulfillment in life." Having spent 100 years listening, seeking, loving and serving, Sister Floretta has influenced the lives of so many students and Sisters in community. She has truly fulfilled Jesus' command to his disciples, "…go, therefore, and make disciples of all nations…."
Feast Day: October 1
Written by Sister Mary Francis Fletcher
If you would like to make a gift to the Sisters of Divine Providence in memory of Sister Floretta, visit our donation page.