Mary Ann Haug, CDP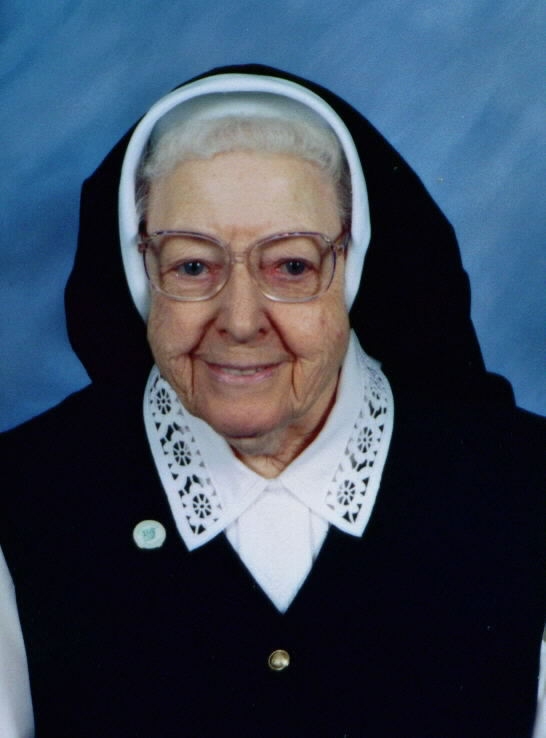 We commend to your charity the soul of our beloved
Sister Mary Ann Haug
who departed this life on Sunday, December 4, 2011
in the eighty-first year of her religious life
Age: 97 years, 1 month, 27 days
Funeral: Wednesday, December 7, 2011 at 10:30 a.m.
Arrangements are as follows: Viewing at Staten-Fine Funeral Home, 220 Court Street, Alton, IL on Tuesday, December 6 from 4-8 p.m. Wake Service at 7 p.m. on Tuesday, December 6. Mass of Resurrection on Wednesday, December 7 at 10:30 a.m. at St. Mary's Church in Alton, IL.
Sister Mary Ann entered eternal life peacefully in the wee hours of the morning of Dec. 4th, the second Sunday of Advent and the feast day of St. Barbara. The Advent readings of the day capture her years of "giving comfort, of speaking tenderly to one's heart." Her God comforted her in this last journey, saying, "Do not fear, I am with you. Come home to Me."
Dorothy Barbara, daughter of the late Adolph and Anna Marie Haug, grew up in the rural Illinois farming town of Brussels. She was one of four children, having two brothers and one sister. One brother, Monsignor William Haug was a diocesan priest of Springfield, Ill., and her sister, Sister Mary William, became a Sister of Divine Providence. Her brother Lawrence married and had three children. All of her siblings have preceded her in death. 
Dorothy attended St. Mary's School in Brussels, where she first met the Sisters of Divine Providence and later followed her sister into the community. After a year of attending high school at Marquette in Alton, Ill., she entered the Sisters of Divine Providence in Allison Park, Pa., as a candidate, and graduated from Providence Heights High School. On December 8, 1930, she became a postulant, entered the novitiate on August 6, 1931, and was given the religious name Sister Mary Ann. She spent one year and eight months as a novice at Providence Heights and then, in 1933, was sent to the newly-formed St. Louis Province, where she completed the last four months of her novitiate. After professing her temporary vows in 1933, Sister Mary Ann was sent out to teach for five years at St. Mark's School in Venice, Ill., and then went on to earn her bachelor of science in education degree from St. Louis University. 
For the next fifty-one years, Sister Mary Ann was involved in educational ministry. She was a teacher and principal, ministering in Missouri, Illinois, and Louisiana schools. Her students loved her because of her gentle presence, patience, compassion and quick wit. She made learning fun, nurtured many a vocation into the Sisters of Divine Providence, and was beloved throughout her life. Sister Mary Ann also served as novice director for the community from 1956−1960. Many current Sisters spent their formative years under Sister Mary Ann and remain devoted to her to this day. From 1970−1980, she served as a Provincial Councillor when many changes were occurring in religious life. "Trusting in God's Providence and making known God's Providence by how I live" is the way Sr. Mary Ann described how she tries to carry out the community's charism. She was an avid Cardinals baseball fan, rooting for them whether they were successful or not! For many of us who knew her well, she was a woman of wisdom, often sharing her life lessons with us. 
Since 1994, Sister Mary Ann has served the community in prayer ministry and lived at St. Clare's Villa in Alton, Ill. There, she faithfully prayed for the community's intentions daily and always for vocations to our community. This is truly a woman upon whose shoulders we stand … a woman who has been true to her call over a great many years, living out her vows and providing a marvelous example to the rest of us of what it means to be truly a woman of providence. Well done … your heavenly home awaits you! 
Birthday: October 7 
Written by Sister Barbara McMullen
If you would like to make a gift to the Sisters of Divine Providence in memory of Sister Mary Ann, visit our donation page.