Mary Clement Kekich, CDP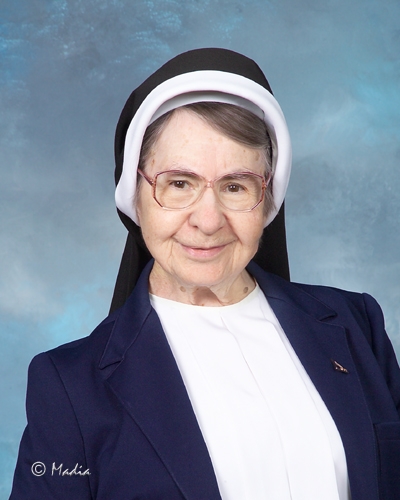 We commend to your charity the soul of our beloved
Sister Mary Clement Kekich      
who departed this life on Thursday, April 22, 2010
in the seventy-fourth year of her religious life
Age: 90 years, 5 months, 25 days
Funeral: Monday, April 26, 2010 at 4 p.m.
"We obtain everything from God according to the measure of our confidence." Sister Mary Clement had this saying, which illustrates her quiet life of faith, taped to her wall. 
Anna was one of the youngest of six children born to William and Veronica Kekich of Millvale, Pa. Every day, walking with many other children, Anna crossed the 40th Street Bridge to attend school, where she was taught by the Sisters of St. Agnes. At an early age, Anna was interested in becoming a Sister and spent her first year of high school at the Sisters of St. Agnes' prep school. The next year, she transferred to Providence High, joining other young women at the prep school of the Sisters of Divine Providence. One of her brothers had entered the Capuchin Order, and at age 16, Anna entered and began her life as a Sister, as was common in those days.  
Sister Mary Clement completed her high school studies even as she was being taught about prayer, community, and the vows. The Sisters who entered at about the same time say that Sister Mary Clement was always quiet and shy. She was also generous and self-giving, always willing to do what others asked. She once told a Sister that no matter what anyone asked of her, she would not refuse them.  
Trained as an educator, Sister Mary Clement enjoyed the children and worked hard to help each one to know God and to be prepared for life. Wherever she was, she served those in need: the children, their parents, the parishioners, and her Sisters. For 26 years, Sister Mary Clement served in schools of the  Diocese of Pittsburgh, and for another 22 years, she served as both teacher and principal in schools in Puerto Rico. Her facility with Spanish also became a gift for her Sisters. After returning to the States, Sister Mary Clement offered basic Spanish classes to Sisters who wanted to learn, and often she was asked to translate messages into English.
After almost fifty years as an educator, Sister Mary Clement returned to Providence Heights. She received training in nursing care so that she could assist with the care of her frail and elderly Sisters, which she did for seven years, and when that became too much, she continued to serve the Sisters as a driver. Her quiet, positive approach to life and her prayerful ways supported and strengthened others in community. 
Sister Mary Clement gave witness of a simple, faith-filled life and was a model of generosity. Quietly, she lived her final days and years, making prayerful visits in chapel on her way to visit Sisters in the infirmary. On her last morning, she participated in the Eucharistic Liturgy, as always, and joined Sisters for breakfast. Later, quietly sitting in her chair, Sister Mary Clement peacefully slipped away from us and met the One to whom she had given her life and love. 
We obtain everything from God according to the measure of our confidence.
Feast Day: September 24
Written by Sister Mary Francis Fletcher
If you would like to make a gift to the Sisters of Divine Providence in memory of Sister Mary Clement, visit our donation page.