Sister Elizabeth Apel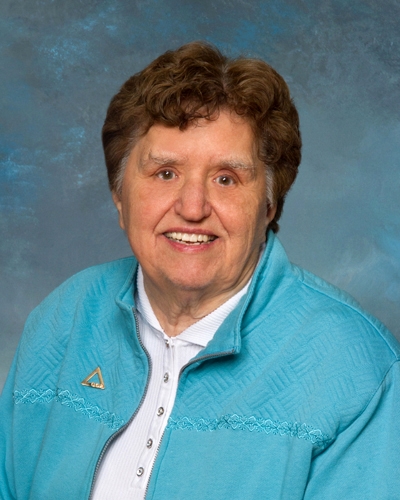 We commend to your charity the soul of our beloved
Sister Elizabeth Apel
who departed this life on July 25, 2013
in the sixty-third year of her religious life
Age: 85 years, 2 months, 8 days
Resurrection Service: Monday, July 29, 2013 at 4 p.m.
Life has been changed, not taken away for Sister Elizabeth Apel, baptized Alma Lois. She surely is having a very happy reunion with her parents Joseph and Elizabeth, and her brothers and sisters Ruth Clara, Agnes Elizabeth, Rita Cecelia, Rose Mary, Anna Louise, Joseph, John Bernard, and Anna Jean. She is survived by her brother, Edwin Victor.
Liz, as she preferred to be called, was a wonderful gift to her family and to the People of God. She entered the religious community of the Sisters of Our Lady of Charity in 1951. When the community wanted to appoint her novice directress, they had to seek a dispensation because she was too young. Her friend, Sister Sheila Rooney, OLC, who had been one of her novices, remembers Liz as a loyal friend and a person of gentle honesty, who had a great love for her family. Besides serving that community as novice directress for seven years, Liz was also the community executive secretary for a period of time. In 1974 Liz transferred to the Sisters of Divine Providence.
Sister Joan Marie Harper remembers the ceremony for Transfer of Vows into the Sisters of Divine Providence. In one part of the ceremony, Liz asked God to make her a hollow reed so she could be a flute making God heard in this world. Sister Joan also saw Liz as a very hard worker who earned degrees in social work and used her education and training in many situations, never sparing herself in the doing. Liz was not only a hard worker, but also a very creative person. In her spare time she did many crafts and was an excellent seamstress.
Sister Marian Senish presented a program to the Sisters of Our Lady of Charity and met Liz at that time. Liz had prepared her co-sisters to engage in a 6 week program on prayer, and it was the overwhelming concern, dedication and service she showed at that time that made her who she really was. She transferred the same personal gifts to her new-found Community of Divine Providence. During her retirement years, she never refused the opportunity to aid the sick and dying as a hospice chaplain or to drive sisters to the doctor.
Liz had been the director of social services and child care for Gilmary School, a counselor with Pittsburgh adult services and the Area Agency on Aging, information and referral person at All Saints Parish in Etna... among various other things. She moved to the Diocese of Youngstown in 1979, where she filled many roles in her service to the People of God. She was the director of parish outreach in Catholic Charities, and the diocesan director of parish councils and RENEW, a spiritual renewal program. In 1991 she was named director of planning for the diocese. In 1997, she returned to Pittsburgh and began her hospice and bereavement work.
When Liz was told of her cancer diagnosis, she prepared during her last days with full acceptance of what would follow, what was hidden, and known only in the mind of God!
May the personal and ministerial gifts of Sister Elizabeth Apel be transferred to us in her rising to new life.
written by Sister Mary Traupman
Both major Pittsburgh newspapers published obituaries of Sister Liz:
Pittsburgh Tribune Review: Sister used training, compassion to comfort dying
Pittsburgh Post-Gazette: Her compassionate nature helped many people at hospice
If you would like to make a gift to the Sisters of Divine Providence in memory of Sister Liz, visit our donation page.