Gladys Segovia León, CDP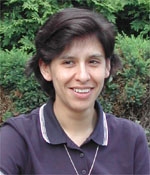 Sister Gladys Segovia León professed perpetual vows as a Sister of Divine Providence in a chapel at Sacred Heart High School in 2008, in Kingston, Mass.
A native of Abancay, Peru, Sister Gladys has been in Kingston since July 2000, when she left home and came to the United States to prepare for religious life. When she arrived here, she did not speak English, but after years of hard work, she got a nursing degree from Caritas Labouré College in Dorchester, Mass., and became a registered nurse.
When asked what she would advise anyone considering religious life, she responded, "Do not be afraid of the unknown. Religious life is not only a gift, but a privilege. Being part of a community offers opportunities for growth and enrichment. Being a member of the Sisters of Divine Providence is a special joy and blessing because I am certain that God's Providence encompasses us and that the spirit of our founders motivates us to be instruments of hope, peace, and healing for others."
Sister Gladys is a nurse at Lourdes Center in Kingston, caring for the Sisters who reside there.