Lisa Paffrath, CDP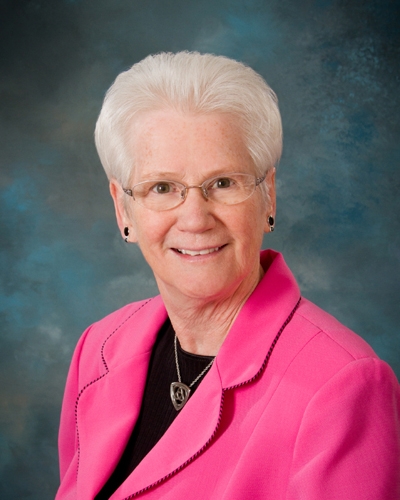 Sister Lisa, formerly baptized as Margaret Mary, entered the Community from The Most Blessed Sacrament parish in Natrona Heights, PA. She describes her family as one that was fiercely faithful to gospel values for many generations, having parents and grandparents who incarnated these values and were models to follow. "My parents and siblings generated this foundation of gospel values in our family and they permeated our home. My Grandmother Paffrath and Aunt Elizabeth, for whom I took my religious name, spent time with me, talked to me, listened to me and taught me. They deeply influenced how I grew up to be a mature Christian woman," said Sister Lisa. She was also mesmerized by the Sisters of St. Joseph who taught her (grades 1-12) by the way they related to one another—so freely, playfully and intimately. She felt drawn into the way they related. Sister Cosmas, CSJ, spent time with her, talking to her about religious life and listening to her.
Beginning in 1965, Sister Lisa taught in the Diocese of Pittsburgh schools, including St. Mary's in McKees Rocks, St. Anne's in Castle Shannon, Nativity in Broughton, SS. Peter & Paul in Beaver, St. Bonaventure in Glenshaw and Providence Heights Alpha School in Allison Park. Some of this teaching overlapped when she began formation ministry in 1972 and continued this ministry, as needed, until 2021. In 1983, she traveled to Calhoun County, West Virginia where she did mission ministry and witnessed to God's poor and forgotten. In 1986, she began campus ministry at Clarion University, which transitioned into mental health and addiction counseling at Clarion County Counseling Center and in private practice. in 2000, she was elected to the first provincial council for the newly formed Marie de la Roche Province and served until 2011. Following this time in leadership, Sister Lisa was back to vocation ministry and serving as a counselor at La Roche University, where she also served in the 1970s. She now serves in internal ministry wherever she is needed.
She said, "Within our community charism, I epecially value relationship; opening myself up to the tremendous love of our Provident God who loves me and cares for me, which affords me a loving presence to all those I interact with throughout each day, sharing God's love with all I meet."
Self described as faithful, wise, curious and dependable, Sister Lisa enjoys any form of needlework, jigsaw puzzles, music, reading, time in nature, raising plant and gardening.
CLICK HERE to make a gift in honor of Sister Lisa's 60th Jubilee.