Linda Hylla, CDP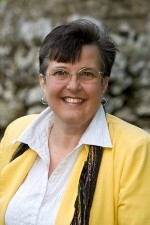 Sister Linda Hylla entered the Sisters of Divine Providence from her home parish of St. Mary & Mark in Madison, Ill. Her greatest influence to enter religious life was the Sisters of Divine Providence who ministered at St. Mary's Convent in Madison and those who served at St. Elizabeth Medical Center in Granite City, Ill. What impressed her most about the Sisters was their authenticity. She says, "Their presence and hospitality was a testimony of the gospel message."
Sister Linda is an early intervention provider (since 2006), and is currently a contracted clinician with Community Link in Breese, Ill. She evaluates and works directly with parents whose children have at least a 30 percent delay in language and social skills. She also works with a multidisciplinary team of professionals to best deliver direct services to the child and their family. Sister Linda is also a licensed clinical social worker (since 1995). Her youngest client was 13 months and her oldest was 83. Her areas of concentration include children with global developmental delays, autism, AD/HD, and children who have experienced parents with mental illness. She consults with daycare staff and helps to create environments that are safe for small children.
In thinking back on her life, Sister Linda recalls that it has been a series of joys and sorrows. In learning to "let go," she has deepened her relationship with God. She says, "My joy of learning to be vulnerable has given me priceless gifts of intimacy. I am very proud to be a Sister of Divine Providence, and I continue to grow in deeper appreciation for the meaning Providence has for me, personally and communally."
Sister Linda is also an accomplished artist. Her greeting cards have been published in the St. Louis Review, and have been sold through Room at the Inn, a sponsored ministry of the Sisters of Divine Providence. They have also been given to benefactors in gratitude for their support.
CLICK HERE to make a gift in honor of Sister Linda's 40th Jubilee.