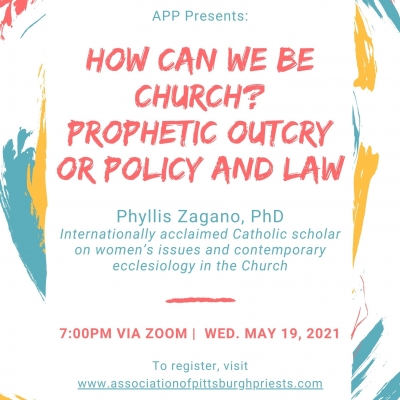 APP Speaker Series: How Can We Be Church? Prophetic Outcry or Policy and Law
The 2021 Spring Speakers Series of the Association of Pittsburgh Priests will conclude with Phyllis Zagano, PhD, via zoom.  Her topic is:  How Can We Be Church?  Prophetic Outcry or Policy and Law.
What happens when a prophetic figure tries to change the system?  Phyllis Zagano endeavors to translate new ideas into the practice and policy of the Catholic Church.  So, Dr. Zagano has wrestled with the issue:  How can we be Church?  Sometimes law is helpful.  Sometimes prophets are helpful.  She has labored for decades to live in both worlds as a faithful Catholic.
Phyllis Zagano, PhD, internationally acclaimed Catholic scholar on women's issues and contemporary ecclesiology in the Church, was appointed by Pope Francis to the Papal Study Commission on Women's Diaconate in 2016.  An adjunct professor and researcher at Hofstra University, she was named Layperson of the Year by Voice of the Faithful in 2012.  In 2014, she received the Isaac Hecker Award for Social Justice from the Paulist Center in Boston.
The Association of Pittsburgh Priests who have worked on church renewal issues for more than 50 years, and other participants will be gifted by the experience and insights of a prophet living in hope for inclusion and justice, not only for women as deacons, but for renewed life for the while Church community.  
To register for the event, go to www.associationofpittsburghpriests.com  There you can also find recordings of some of the previous speakers in the APP Speakers' Series and how to order "A Progressive Voice in the Catholic Church in the United States:  Association of Pittsburgh Priests 1966-2019".
The Association of Pittsburgh Priests is a diocesan-wide organization of ordained and non-ordained women and men who act on our baptismal call to be priests and prophets.  Its mission, rooted in the Gospel and the Spirit of Vatican II, is to carry out a ministry of justice and renewal in ourselves, the Church and the world.