Wampanoag Common Lands project seeks to restore former Catholic camp to what it was before European colonization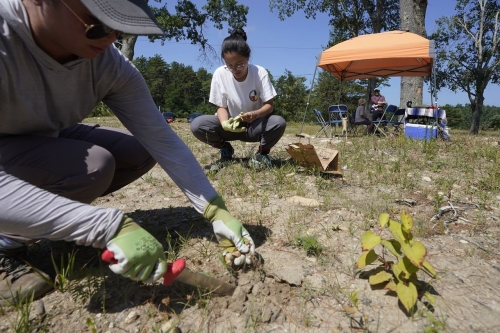 August 24, 2022
By The Associated Press | MassLive
Asa Peters marched into a thicket of Japanese knotweed in the woods of coastal Massachusetts this month and began steadily hacking the towering, dense vegetation down to size.
The 24-year-old member of the Mashpee Wampanoag tribe was among a cadre of volunteers rooting out invasive species and tending to recently planted native vegetation on a wide swath of forest acquired on behalf of his federally recognized tribe and other Wampanoag communities.
"It's hard. You got to keep pulling and pulling. Starting to really sweat, but it's cool," he said as he took a quick break in the sweltering August heat. "We're in the early stages, putting in the work to create a special place where we can do all kinds of great things."
The Common Lands, as the project is called, seeks to restore a 32-acre (13-hectare) former Catholic summer camp on the banks of the Muddy Pond in Kingston to something closer to what it might have looked like before European colonization transformed it.
To read the full article, CLICK HERE.